Dos caras de la responsabilidad empresarial
relaciones entre Celsia y la comunidad de El Caney durante la construcción de la central Hidromontañitas
Resumen
Este trabajo da cuenta de los aspectos más relevantes de la gestión de la responsabilidad empresarial y de las relaciones entre la empresa Celsia y un grupo de habitantes de El Caney (Santa Rosa de Osos, Colombia) durante la construcción de la central Hidromontañitas. La metodología seguida consistió en una entrevista en profundidad con la profesional de comunicaciones de Celsia y el desarrollo de un grupo de discusión con miembros de la comunidad. La información obtenida ha sido contrastada teniendo en cuenta qué entienden empresa y comunidad por responsabilidad empresarial, así como aspectos asociados al proceso de relación, en términos de participación de la comunidad, del cumplimiento de los compromisos pactados con ella, así como de las expectativas de esta última.
Citas
Benn, S., Renier T. L. y Pendleton, J. (2010). "Public relations leadership in corporate social responsibility". Journal of Business Ethics, 96, 403-423.

Celsia (2013). Reporte integrado 2012. Medellín.

Clark, C. E. (2000). "Differences between public relations and corporate social responsibility: An analysis". Public Relations Review, 16 (3), pp. 363-380.

Colinversiones (2012). Informe de sostenibilidad 2011. Medellín.

Coppa, M. y Sriramesh, K. (2013). "Corporate social responsibility among SMEs in Italy". Public Relations Review, 39, 30-39.

Chaudhri, V. y Wand, J. (2007). "Communicating Corporate Social Responsability on the Internet. A case Study of the Top 100 Information Technology Companies in India". Management Communication Quarterly, 21, (2), 232-247.

Dawkins, J. (2004). "Corporate responsibility: The communication challenge". Journal of Communication Mangement, 9, (2), 108-119.

Empresa Urrá (s/f). Transferencias del sector eléctrico de la venta de energía de la Central Hidroeléctrica de Urrá. Ley 99 de 1993. Folleto de divulgación.

Etayo, C. y Preciado, A. (2008). "La comunicación directiva interna en las agencias de publicidad españolas". Anàlisi, 37, 11-29.

Falck, O. y Heblich, S. (2007). "Corporate social responsibility: Doing well by doing good". Business Horizons, 50, 247-254.

Freeman, R. E. y Phillips, R.A. (2002). "Stakeholder theory: a libertarian defense". Business Ethics Quarterly, 12, (3), 331-349.

Galeano Marín, M. E. (2009). Estrategias de investigación social cualitativa. El giro en la mirada. Medellín: La Carreta Editores.

Grunig, J. E. (2011). The value of public relations: Relationships and reputation as an intangible assets. Conferencia. V Congreso Internacional de Comunicación Estratégica. Gestionar la confianza frente a nuevos escenarios de interrelación. Universidad del Norte, Barranquilla, Colombia, 14 de septiembre de 2011.

Ihlen, O. (2008). "Mapping the environment for corporate social responsibility. Stakeholders, publics and the public sphere". Corporate communications. An international Journal, 13, (2), 135-146.

Isagen (2012). Entrevista personal con Jaime Alberto Quintero, profesional de comunicaciones. Medellín, marzo de 2012.

Jung, H. J. y Kim, D. O. (2016). "Good Neighbors but Bad Employers: Two Faces of Corporate Social Responsibility Programs". Journal of Business Ethics, 138, 295-310.

Leeper. K. A. (1996). Public Relations Ethics and Communitarianism: A Preliminary Investigation. Public Relations Review, 22, (2), 163-179.

Luning, S. (2012). "Corporate social responsibility (CSR) for exploration: Consultants, companies and communities in processes of engagements". Resources policy, 37, 205-211.

Moreno, M. A. y Capriotti, P. (2007). "Communicating corporate responsibility through corporate web sites in Spain". Corporate Communications: An International Journal, 12, (3), 221-237.
Recalde, M. (2010) "¿De qué modo contribuye la comunicación al logro de una empresa más responsable?" Cuadernos de Información. Facultad de Comunicaciones, Pontificia Universidad Católica de Chile, 27, pp. 111-122.

Rodríguez-Raga, J. C. y Seligson, M. A. (2010). Cultura política de la democracia en Colombia, 2010. Consolidación democrática en las Américas en tiempos difíciles. Barómetro de Las Américas, Centro Nacional de Consultoría, Latin American Public Opinion Project, Lapop; Observatorio de la democracia, Universidad de Los Andes, Usaid y Vanderbilt University.

Scandelius, Ch. y Cohen, G. (2016). "Achieving collaboration with diverse stakeholders. The role of strategic ambiguity in CSR communication". Journal of Business Research, 69, 3487-3499.

Self, Ch. C. (2010). "Hegel, Habermas, and Community: The Public in the New Media Era". International Journal of Strategic Communication, 4, 78-92.

Vaaland, T. I. y Heide, M. (2008). "Managing corporate social responsibility: lessons from the oil industry". Corporate Communications: An International Journal, 13, (2), 212-225.

Wood, D. J. y Logsdon, J. M. (2008). "Business citizenship as a metaphor and reality". Business Ethics Quarterly, 18, (1), 51-59.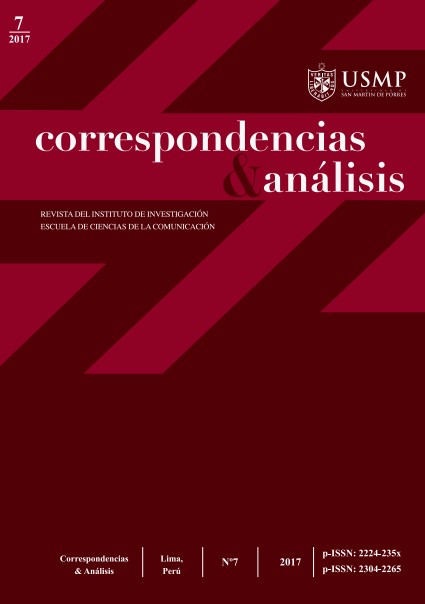 Sección
Relaciones Públicas
Esta obra está bajo licencia internacional
Creative Commons Reconocimiento-NoComercial-CompartirIgual 4.0
.